This post contains affiliate links. Affiliate disclosure: As an Amazon Associate, we may earn commissions from qualifying purchases from Amazon.com and other Amazon websites.
This article showcases our top picks for the Women Advising Women Books. We reached out to industry leaders and experts who have contributed the suggestions within this article (they have been credited for their contributions below).
We are keen to hear your feedback on all of our content and our comment section is a moderated space to express your thoughts and feelings related (or not) to this article This list is in no particular order.
This product was recommended by Krystal Kelly from Equestrian Adventuresses
I am suggesting this book because it is a quick read about improving eyesight with simple eye yoga exercises. About a month ago I was in an eye glasses store so that my husband (who has had glasses his entire life) could pick up his new prescription. He does eye yoga everyday. The woman at the counter who helped him check his prescription spoke about her poor daughter who had horrible vision and had an extremely high prescription glasses. When I mentioned to her the idea of her daughter and herself doing some basic eye yoga exercises to help, she didn't even take my words seriously. She thought it was a joke! Eye yoga is real and can help improve eyesight and lower prescriptions (or even remove them altogether!) which is why I think this book would make a great choice to your selection. It is written by a woman for women on how to naturally help eye problems.
---
This product was recommended by Monica Bivas from MonicaBivas
This is a little, fun, fast-reading book that is recommended by not just me but also top infertility professionals around the Country and their patients. It has helped so many women laugh through all of the anxieties and uncertainties of infertility and its treatments.
---
This product was recommended by Joy Loverde from ElderIndustry
It's a simple fact. Almost everywhere in the world, women live longer than men. In the United States, the average life expectancy is 78.6 years for both genders. For women, it's 81.1 years and for men, it's 76.1 years. Aging solo is on the rise. Among today's growing single population, 63 percent have never been married, 23 percent are divorced, and 13 percent are widowed. Of that staggering single population, the majority of which are living independently of their own accord, 53 percent of singles are women. Who Will Take Care of Me When I'm Old? is a framework for action. A quality long life requires a critical need to plan for your future self. This book answers critical questions – Where is the best place for me to live? How do I combat isolation and loneliness? Is there a way to plan for financial security? How do I make friends that I can count on through thick and thin? and much more. To help make planning easier, customizable worksheets and checklists guide readers throughout the entire planning process. The book also provides in-depth research and links to organizations that can assist during times of life's inevitable transitions.
---
This product was recommended by Carrie Robaina from CLR Media, LLC
Fear Is Not The Boss Of You is a timely book for women who are ready to leave indecision, overwhelm and fear behind them. It will inspire women to take action and move forward with courage knowing they were made for such a time as this. Jennifer will have you roaring with laughter in one moment, calling you out in the next and somehow feeling like you have a new best friend ready to take on the world with you all at the same time.
---
This product was recommended by Ali Rizvi from Dream Superhero
Real Money advice for Every Woman and encourages you how to take responsibility for your financial future, whether you're just starting out or need a fresh start.
---
This product was recommended by August McLaughlin from AugustMcLaughlin
Girl Boner is a compassionate, inclusive companion for femme- and female identifying folks who want to cultivate sexual self-discovery, unlearn damaging myths and have fun in the process. It's full of practical tips, true stories, journal prompts and more. I recommend it for anyone who has experienced shame around their sexuality or wants to trade wonky messages about what it means to be a 'good girl' for more empowering ideas.
---
This product was recommended by Leslie Jackson from LadyRacing
As an author myself, I love reading as many books by female entrepreneurs as possible. This Women's History Month I released my own book Change Course, One Lady's Race from Acceptance to Adventure. This book is a memoir of my life- and how I faced my fair share of adversity. I was born with a rare skin condition, lost my brother in a car accident when I was a child and became a mother at age 17. Now, my goal is to encourage women to embrace their adversity and use it to make them stronger. There are so many women out there who have struggles and feel they are alone. The past does not hold us back, it sets us up for a future full of endless possibilities. It shows us how we can learn and lean into the strength we gained from our experiences to become whoever we wish. This book is meant to show women how to get up, dust themselves off, push past, and get through each and every challenge that you encounter.
---
This product was recommended by Amanda Olson from AmandaOlson
This book is a self care guide to managing the various sensitive health issues that women experience throughout the lifespan and. It is written in easy to understand language with gentle humor by a female doctor of physical therapy. Each chapter covers a different issue, from pelvic pain, to constipation, urinary incontinence and pelvic organ prolapse, with exercises and remedies that be performed at home.
---
This product was recommended by Mikaela Kiner from ReverbPeople
Women are tired of waiting for the respect they deserve. With companies slow to change, Female Firebrands is a playbook that women can use to become better advocates for themselves and the women around them. Filled with real stories and actionable checklists, this book features the stories of thirteen successful, mission driven women who share the obstacles they faced at work and how they overcame them. If you've ever been interrupted in a meeting, hit on at work, or passed over for promotion, this book is for you.
---
This product was recommended by Lindsey Brodowski from Janeldyan
With her proven JD Methodology and three step process, Dyan has found that a female executive's personal brand is the missing link between female driven consumer economy, and the rise of women in leadership by asking not "What do I wear" but rather "What story do you want to tell?" The JD Methodology was developed on the belief that by understanding and embracing human behavior, we, as a whole, have the opportunity to use our DNA to our advantage. First impressions are a direct (not to mention instant) response to our basic human nature. In a single moment, our emotional and visceral response overpowers any and all logic. Studies show that 95% of consumer decisions are made on emotion — and that includes their decision to trust your brand … and your leaders. The JD Methodology is about the ability to control the conversation with aligning brand and storytelling, which, in turn, establishes an emotional connection to all senses, whether the audience realizes it or not. Dyan emphasizes, "Every woman running a business or making strides in her professional career has the power to control the conversation and establish a brand that's trustworthy, inspiring, and honest from the inside-out."
---
This product was recommended by Jill Stoddard from JillStoddard
264 million people worldwide struggle with anxiety and women suffer at nearly double the rates of men. This may in part be due to ongoing bias in the social context in which we live (e.g., women are still paid less than men for doing the same jobs; we are still expected to carry the majority of the domestic load even when we work outside the home, etc.) Be Mighty teaches women to change their relationship to anxiety so we can live big, bold, beautiful lives amidst the chaos of life.
---
This product was recommended by Jessica Carruth from Carruth Wellness
Over and over in my practice, I see women who are tired, stressed, and burnt out—and their health is paying the price. This book is the perfect fix to help women live in flow with their bodies' natural 4-week cycle, get more done in less time, and balance their hormones.
---
This product was recommended by Tamela C. Todd from TamelaC.Todd
It will also empower readers and raise awareness about the impact of mental and emotional health issues. The transparency of my journey will inspire readers to evaluate their own mental and emotional health.
---
This product was recommended by Tsara Shelton from TsaraShelton
Spinning in Circles and Learning from Myself by Tsara Shelton offers a powerfully uplifting collection of stories and ideas for women navigating various facets of life and growing up. Tsara Shelton writes with candor and uncommon comfort, bringing the reader into her confidence, about life experiences that include autism, poverty, abuse, parenting, and prejudice. Though the stories never shy away from the stuff of suffering they also never choose misery as their message. The author is gifted at finding answers that lead to happiness and health in her hurt, then using storytelling to reveal these answers – and even the skill itself – for her readers.
---
This product was recommended by Lynell Ross from Zivadream
This is my favorite book on women's health because what we eat matters more than anything else to our health. Dr. Miriam Nelson takes the focus off dieting and weight loss and teaches us how to eat well to nourish our body and mind. Healthy weight follows as a result of understanding nutrition and how to eat. In Strong Women Eat Well, Dr. Nelson breaks down facts on how much protein we need, makes sense of scientific breakthroughs, and gives us simple ideas on how to choose healthy foods for our busy lifestyle. She not only gives us informative health ideas and practical advice on healthy living, she gives us 50 simple, nutrient rich recipes along with a plan for how to eat well.
---
This product was recommended by Sonya Matejko from SonyaMatejko
This workbook gives you a fresh new mindset, challenges the status quo, and ultimately increases your level of self-worth and confidence so you can face the world head-on and heart-first. Especially during really uncertain times like today, having a dedicated practice to go inward is crucial. With this mix of developmental exercises, meditation, deep self-reflection, relief and resilience is sure to be found.
---
This product was recommended by Angela Martini from AngelaMartini
Love Hope Light is an inspirational memoir that chronicles the hardships her mother experienced in her native Albania, escaping communism and poverty before finally re-establishing herself as a professor in Switzerland. The book also chronicles Angela's earliest experiences growing up in poverty and dealing with kidnapping attempts, feeling isolated, dreaming of a better future, and her subsequent rise to stardom. Her inspirational story is detailed with stories of how she got her start as a model in Miami after booking a one-way ticket to the U.S. from Switzerland. She walked into the NEXT Model Management offices and signed with the well-known agency the very next day! After earning credibility in Miami, she made a move to NYC and signed with ELITE Management. Shortly after, she auditioned for Miss Universe as Miss Albania having never participated in a pageant before, and she placed sixth. The highest anyone from Albania has ever placed in the international competition. Nearly a decade later, Angela has turned a new leaf, becoming a certified life coach, philanthropist, and now author.
---
This product was recommended by Jennifer Ellis from Life Enlightenment
This is not your ordinary book – it is a book that also includes guided journaling and exercises plus there is a digital component where the author lets you know where to go online to watch certain videos she created which take you to the next step on your journey. It is really brilliant and making a difference for many women (including me!)!
---
This product was recommended by Marianne Pestana from Moments with Marianne
Cultivating a purpose-filled life doesn't happen by accident, it happens by intention. The Technology of Intention offers a road map to activate the inner-technology for a life of inner-peace, joy and abundance. This book will teach you how to tap into this technology and unleash its power. We all have the power we ve just forgotten how to use it. Intentions give us the pathway to consciously create our lives. They are the powerful force that points the energy in the direction of all we wish to manifest.
---
This product was recommended by Tracy Lamourie from TracyLamourie
Not only has Dr. Nina been featured nationally on the Dr. Drew podcast, but she is also a bestselling author, the host of her own popular L.A Talk Radio show, and television commentator – all on the subject of eating disorders – and how they're not what many people think they are. 8 million Americans believe they have no willpower, no control, or that they're food addicts. Instead, they have a treatable condition that can be healed with psychotherapy.
---
This product was recommended by Paige Feldman from FredAndFar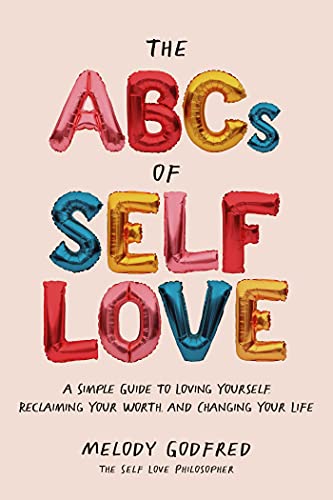 THE ABCs OF SELF LOVE is a short, inspiring book in which each letter of the alphabet represents a different tenet of self-love. It's a workbook where the author isn't someone who has it all figured out telling you to get yourself together, but a woman who's been through the trenches, has come to understand self-love and is empowering you through revealing her own struggles. Through a unique style that incorporates poetry, memoir, and self-love exercises to transform concept into action, Melody empowers the reader to get in touch with their most genuine, authentic self (or as Melody describes it, her ME) in the same way she did. At once relatable and aspirational, it's a rare self-help book that lifts up the reader without shaming them.
---
This product was recommended by Russelyn L. Williams from RusselynL.Williams
Thewholeness Action Plan is a book that helps women to get through hardcircumstances in life. It reminds us that we have a choice in how we respond tocircumstances that occur outside of our control. It encourages us to forgive,practice gratitude, self-care, and personal responsibility. The end of the bookeven has a plan that the reader can sign in commitment to herself to follow thewholeness action plan.
---
This product was recommended by Jess Grippo from JessGrippo
What if the key to getting unstuck was through your body? This book is a call to reconnect to yourself through dance, revive your creative spark, and turn your aloneness into action. Each chapter suggests a dance prompt, an activity you can get up and do from the comfort of your home. Best part? There's a bonus digital companion that provides email nudges, playlists, and an online community to help you really get moving.
---
This product was recommended by Genma Holmes from Genmaspeaks
Angelia L. White, publisher of Hope for Women Magazine, not shares how she was an overcomer and how she became successful with others mentoring her along the way, but she shares the spotlight with other women who also have accomplished much by sharing their best lessons through life greatest challenges. The book shows you the best of who women can be when you have a tribe of supporters cheering you on.
---
This product was recommended by Mimi Bosika from It's Just Mimi
Scott shows leaders how to be powerful with the notion that developing a culture of feedback leads to growth. She has an incredible background leading teams at Google and Apple.
---
This product was recommended by Mimi Bosika from It's Just Mimi
Brown offers Research based insights on how to have the courage to be vulnerable as a business leader, but also in other areas of life. I love her commitment to being in the arena and taking action despite our greatest fears.
---
This product was recommended by Mimi Bosika from It's Just Mimi
I like Chodron's book because it offers great perspective of when things do not go the way we want or the way we planned.
---
This product was recommended by Mimi Bosika from It's Just Mimi
Robin offers great insight into how to transform our relationship with money. This insight is especially relevant now.
---
This product was recommended by Katie Dames from Feely Feelings
This book is written by Michelle Obama herself and chronicles the moments that made her the way she is. She discusses her triumphs and disappointments which is sure to inspire anyone who reads it but especially women.
---